Enjoy An Adventurous Journey To Shimla
Shimla has been a patent site during summer retreats and when you feel the hills calling. Its seamless beauty in the midst of the abundant pine and oak forests makes it a great place of tourist attraction. It was declared as the official summer capital of British India as it provided a much sought after a respite from the scorching plains. It is situated at an altitude of 2205 meters.
Places of Interest In Shimla:
There are a number of tourist attraction spots that you cannot afford to miss when you're visiting Shimla. Some of these are:
Mall Road: This is the main street of Shimla and is known as Shimla's lifeline. It is the center of all activity. Here the colonial buildings of British India have been replaced with kitschy boutiques and buildings with time. Especially the cafes, restaurants and social hangouts on Mall road are popular among the locals and the tourists as well.
Viceregal Lodge: It was designed by the British architect Henry Irwin and served as the residence of British Viceroy in India during the pre-independence age. The lodge exhibits a fine display of Jacobean Architecture with Tudor style arches and carved brick detailing in pillars, parapets, and porches. The lodge dates back to 1888. It has a historical significance too as the Shimla Agreement was sealed here. Nowadays, Shimla tour packages include a guided reference to the stately interiors, a collection of photographs, books, and artifacts.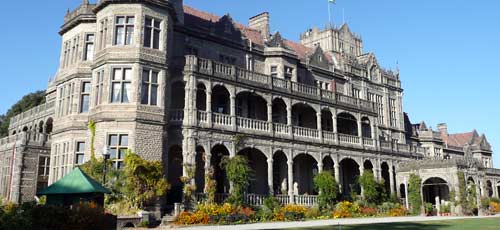 Rothney Castle: The Rothney Castle was home to Allan Octavian Hume, the British Civil Servant who founded the Congress in 1885. Although it needs a lot of restoration it still retains the reflections of its glorious past in the intricate wood and glass work.
Christ Church: It is a prominent landmark in Shimla as it is the second oldest church in India dating back to 1857. It is a fine display of neo-Gothic architecture and situated in the Ridge. It features stained glass windows, a pipe organ, a clock tower, and a rich collection of old scriptures. The illuminated Christ Church at night is a spectacular sight standing in its full grandeur.
Scandal Point: According to the name, the story goes that it is a place where the Maharaja of Patiala eloped with the daughter of the British Viceroy. Needless to say, as the crime was of the highest order during that age, the couple was banished from Shimla as a result.
When to Visit Shimla?
Shimla is a beautiful hill station in Himachal Pradesh which is set at a height of 2202 m above sea level. It is an all-year holiday destination in north India which is visited by a large number of domestic and international visitors every year. As a popular tourist destination, Shimla leaves no traveler disappointed. Here you can enjoy sightseeing and some adventure activities also like skiing and ice skating etc. Shimla is a place that is accesible in summers and winters both season just because both seasons have something unique for you!
The hill station is a popular place of tourist attraction and therefore is beaming with people all through the year. However, March to June is considered as the best time to visit the hill station as the temperature average remains around 25C. It is the perfect place to chill for the hot summer months.